Pick up and delivery - Helping Santa Claus
Each year, as you know, Santa Claus has to deliver toys to all the good children. Usually, he has to fulfil this Job within a single night. That sounds quite challenging! So not surprisingly, Santa called DNA-Evolutions to get some help and ideas on how to optimize this task.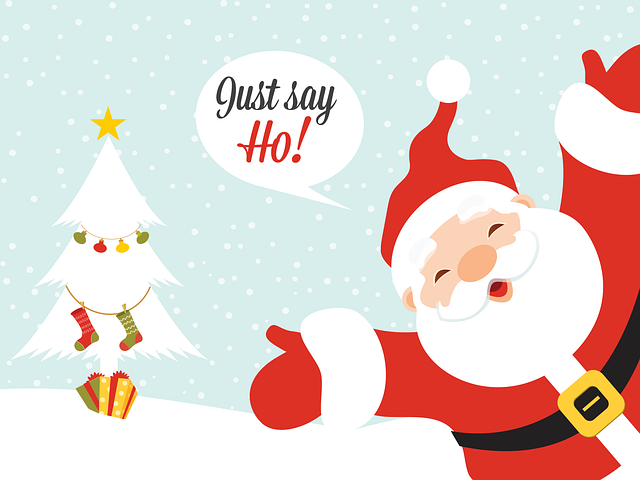 We told Santa that Pickup and delivery (PND) problems are one of the most challenging tasks to solve for any Optimizer. However, we decided:
Of course, we are going to help Santa!
---
Our first meeting with Santa - Problem description
Santa decided he wanted to get some help in a particular area of Germany called North Rhine-Westphalia (NRW). One of his most challenging problems is distributing all the toys and the right amount to the different cities. The last-mile delivery on the evening before Christmas is OK, as he is used to it. He told us that all over NRW, different toy factories are situated that can be used to fabricate three different items:
1) Toy Car - Elite Racing 2022
2) Teddy Bear - Best Friend Bear - Connected Edition
3) Doll - Anna Doll Classic Edition
In addition, he can provide us with elves and trucks to deliver the toys to the different cities.
He wants DNA to perform the following tasks:
Could you get the requirements from each city? How many pallets of each toy are needed?
Could you do the optimized fabrication planning? How many toys need to be fabricated in each toy factory?
Deliver the toys before Christmas!
---
Results - Internal discussion
By calling numerous people, we could finally create a map showing each city and write down their individual requirements.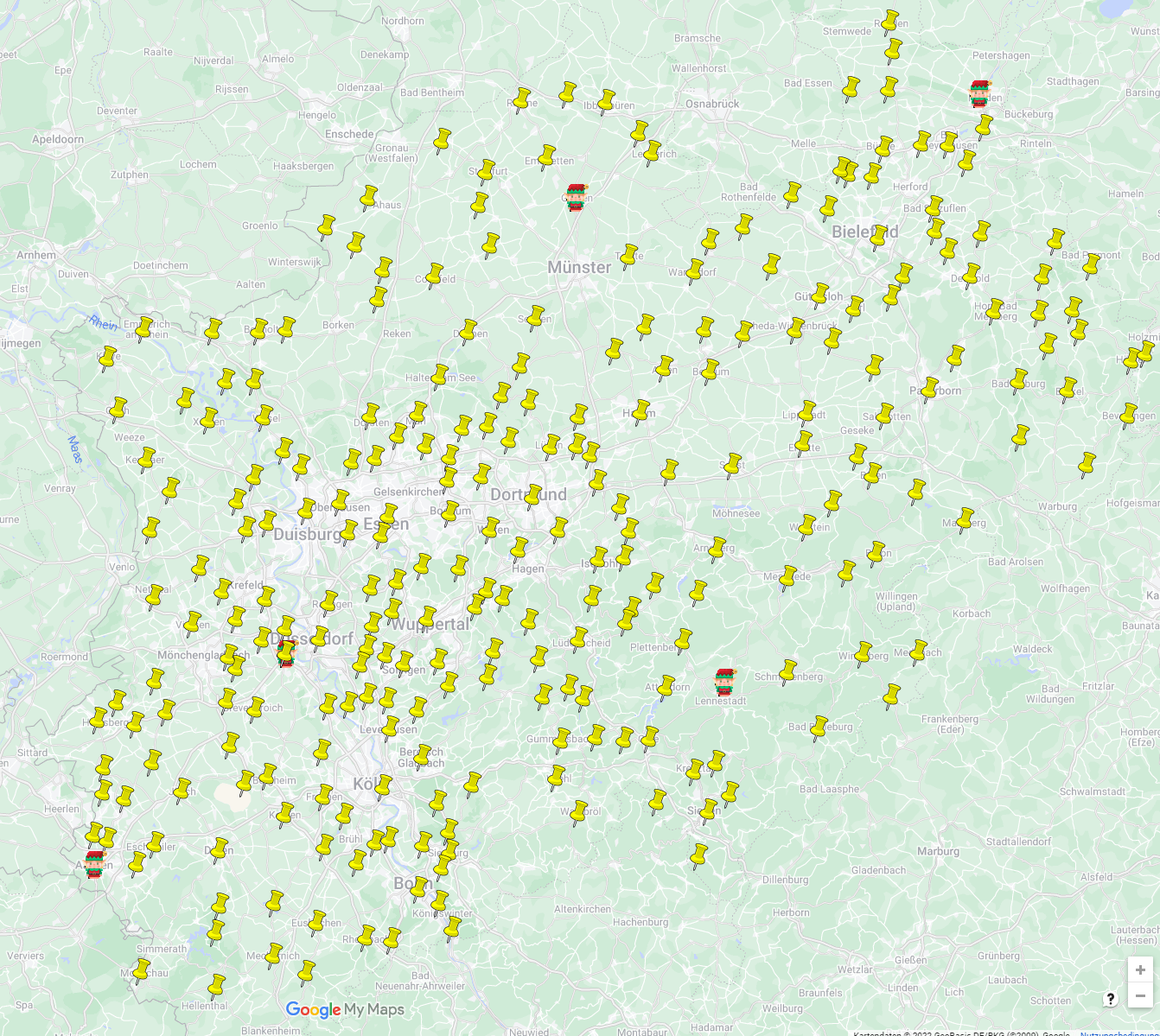 For example, the city Essen has a request of:
3 pallets of "Teddy"
1 pallet of "Toy car"
1 pallet of "Doll"
Analyzing a single result route
After running an optimization with fabrication planning enabled, we started analyzing the results. We knew that this could be our most important job so far and we are responsible for the happiness of a lot of children! To analyze the results, we took a random result route and checked for any violations or other problems.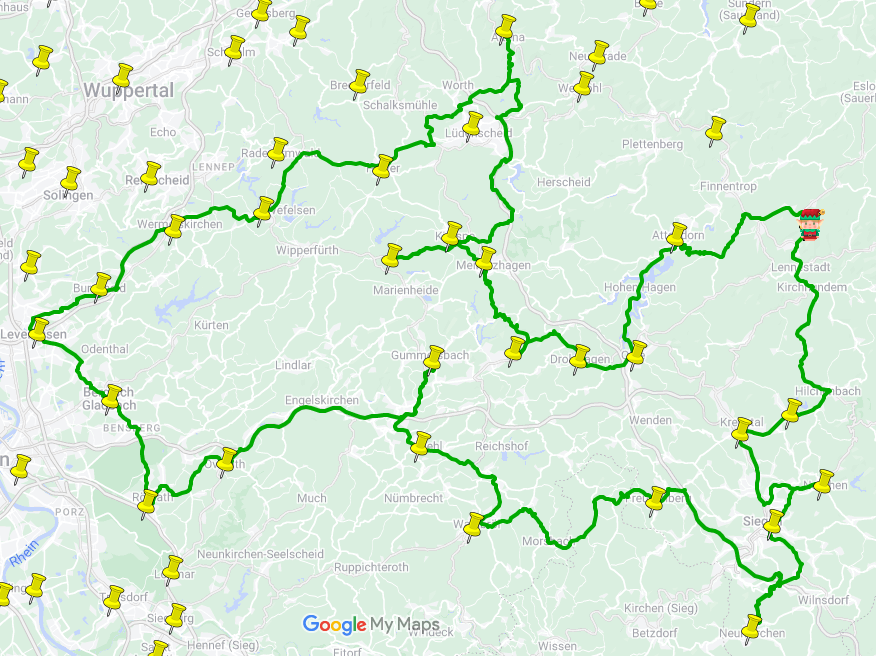 The elf starts at the toy factory in the city of "Lennstadt". The Optimizer found out that we need to pick up 41 pallets of "Teddy", 45 pallets of "Doll", and 46 pallets of "Toy cars" to satisfy the demand of all cities in our route.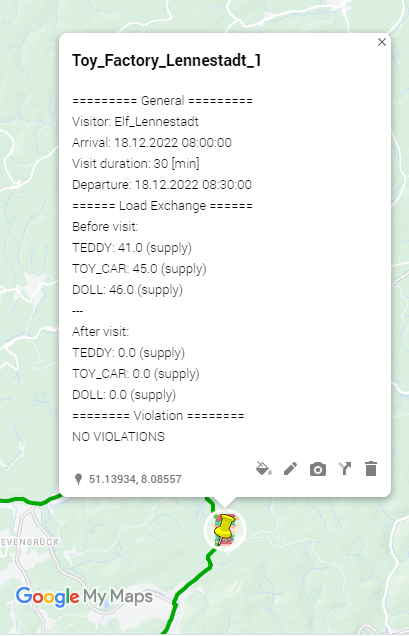 We found no violations, every time window was satisfied, and most importantly, there was still one week until Christmas!
Convincing Santa Claus
In our last meeting with Santa, when eating cockies and drinking hot chocolate, we presented the results to Santa and a few of his elves.
Santa was amazed, and we are confident Christmas will be successful! He also asked us if it is possible to optimize all of Germany with about 2000 cities. Of course, it is!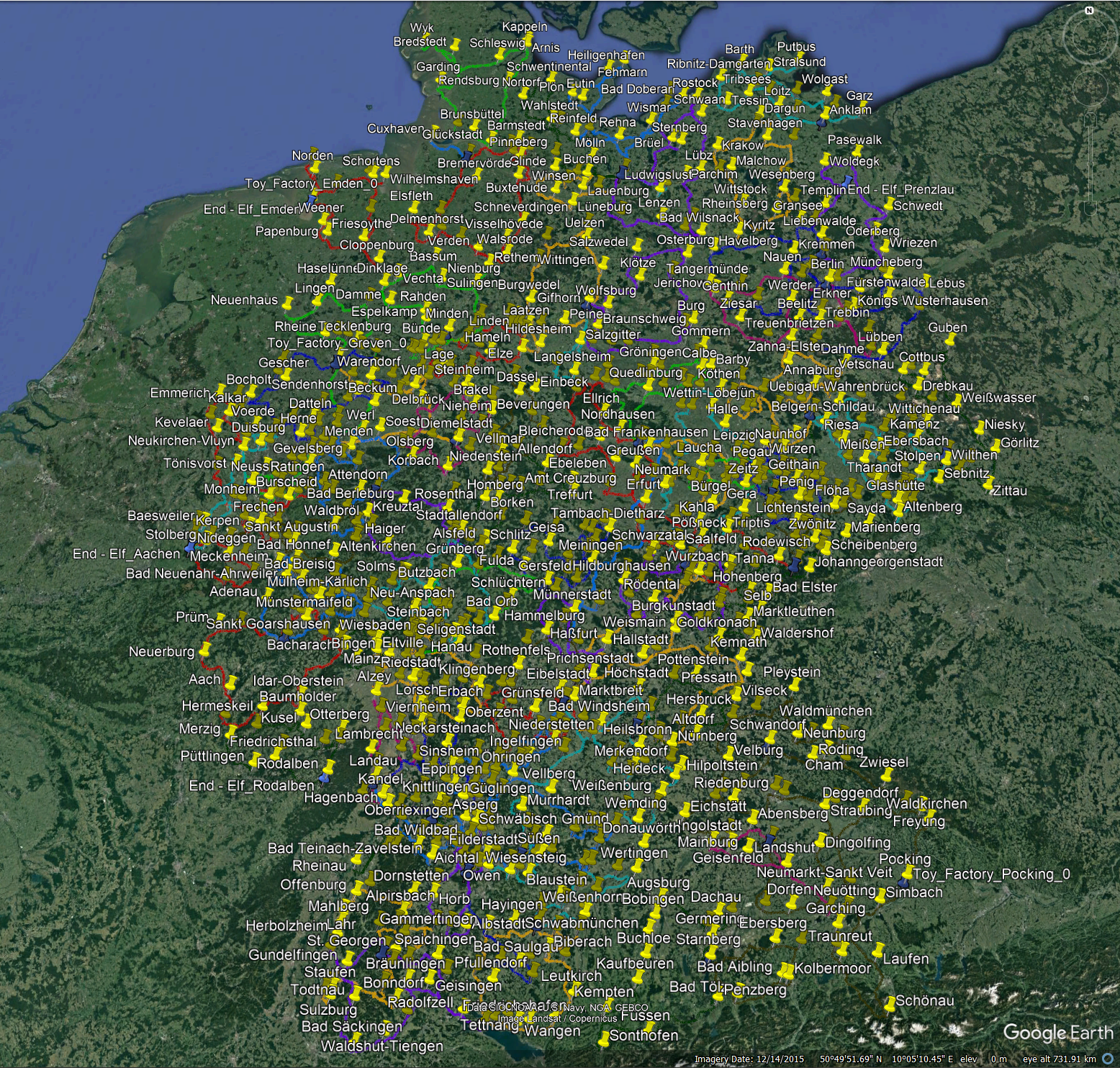 ---
Closing Words
We wish you a very merry Christmas and a wonderful start to the next year. Your DNA-Team!
---
Authors
A product by dna-evolutions ©